More about our European trip. Next destination was Brugge, via Brussels. We had gotten to Brussels on the Eurostar, which was very comfortable. With the exception of, there not being enough space to put our luggage at the allocated space as we entered the carriage, and having had to put our huge bags up on the overhead rails, (I wouldn't have had muscles for it – well perhaps I should have packed lighter, but…) our ride was very comfortable.
I didn't know anything about Brugge beyond watching the movie In Bruges. We found out later, that upon arrival at the train station we had walked out the back exit, so got disorientated about where we were and how to make our way to the hotel. We did finally proceed to walk from the train station to the old town where our hotel was, not too far away, we figured. Turned out not to be too far away, about 1-2km, except that the roads in the old town were cobbled roads, and we were dragging our suitcases and we made a racket!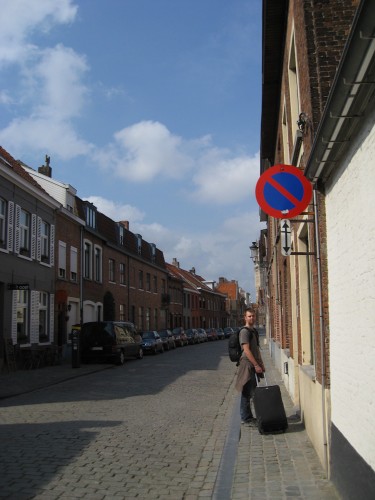 Brugge was really picturesque. I am still unsure how the buildings survived the war (you can probably tell I don't have a grasp on history) but everywhere we looked there were buildings from the sixteen hundreds.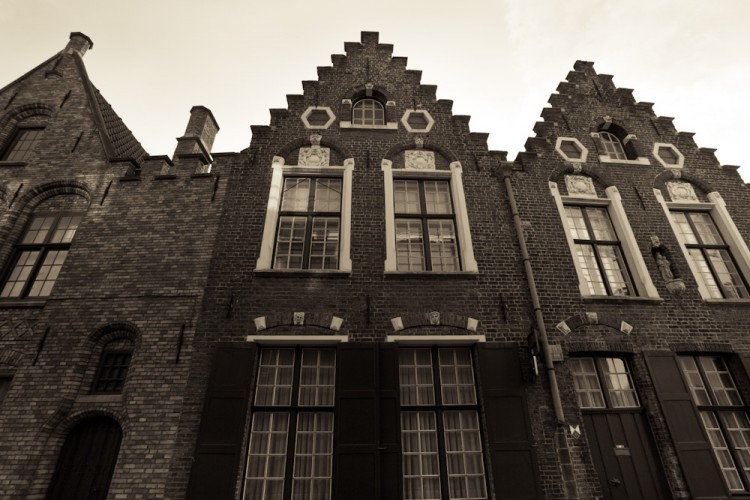 Did I mention the canals? There were lots.

The weather didn't do us any favours. It may not look it in our photos, but it was really cold! Here we were sampling our first Belgian waffles and hot chocolate (and desperately trying to warm up).
Ah, some nice light for photography amidst the beautiful scenery. If only I can hold my camera steady……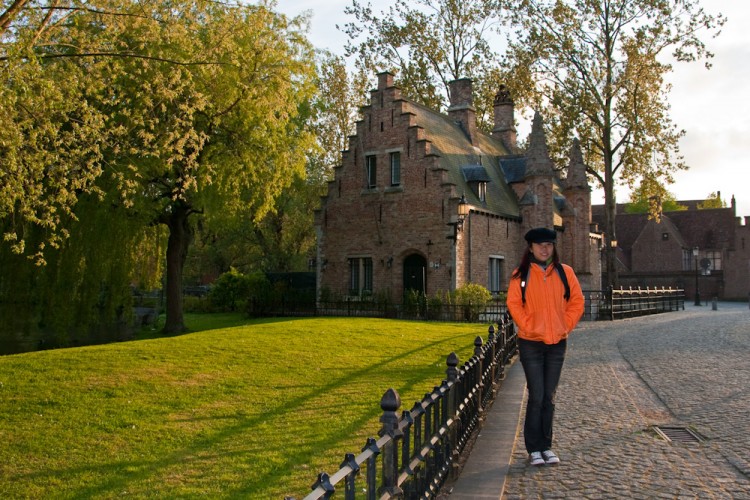 If we look like icy poles here, it is because that was what we felt like.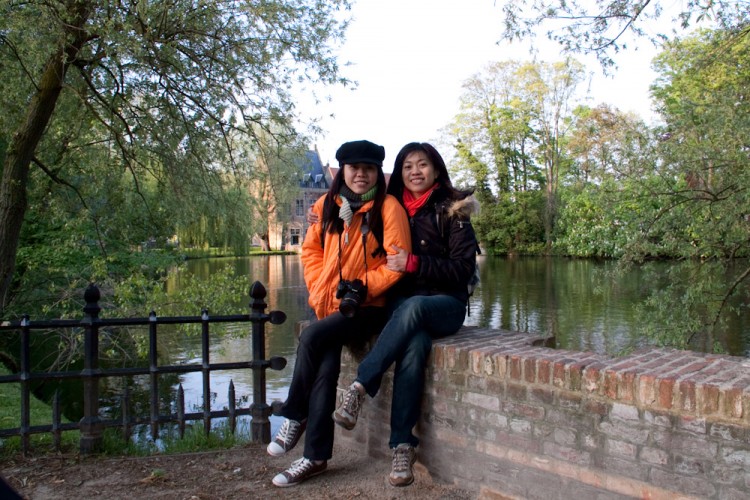 Breakfast at the hotel was very good. Really yummy bread, cheeses, ham, butter, jam, cereal, cake and nutella!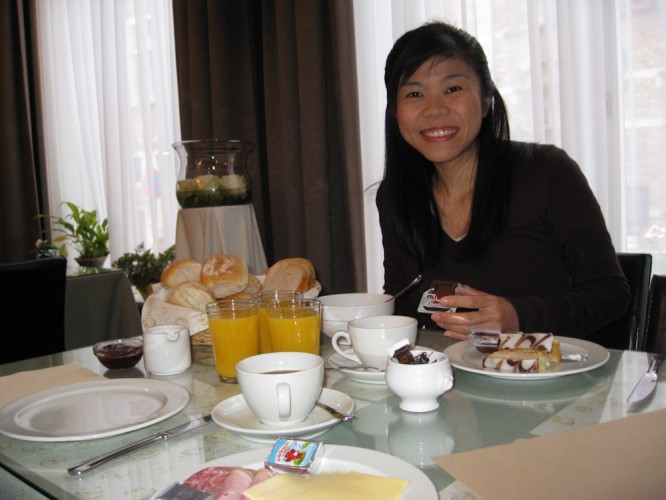 The Belfry Tower, which was very near our hotel. Mistakenly thinking, from having watched In Bruges, that the entry fee was €5 that was what I had expected to pay, only to find out that it was more! (there was a rather amusing scene in the movie about the entry fee which made me remember it)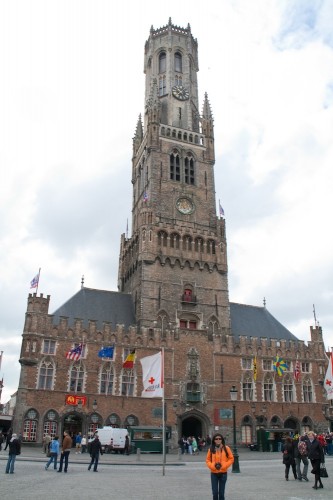 366 steps to the top! (This might have been a photo – on the way down)
After some huffing and puffing, we made it to the top.
Thought we should get some model shots too.
The photographers hard at work.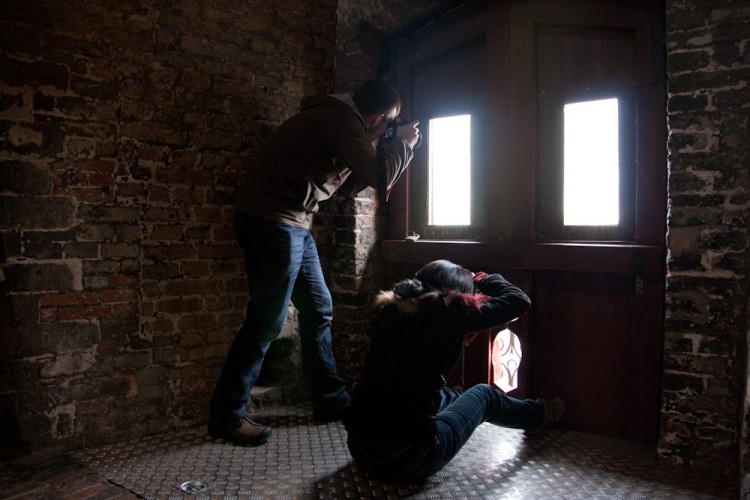 Here is one of the results.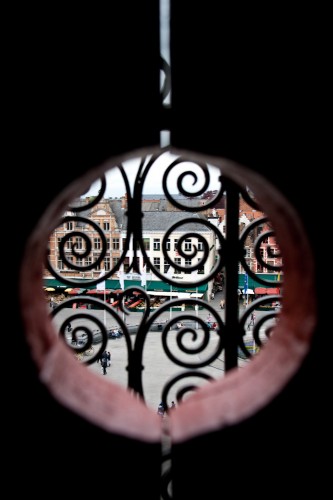 This is the view at ground level.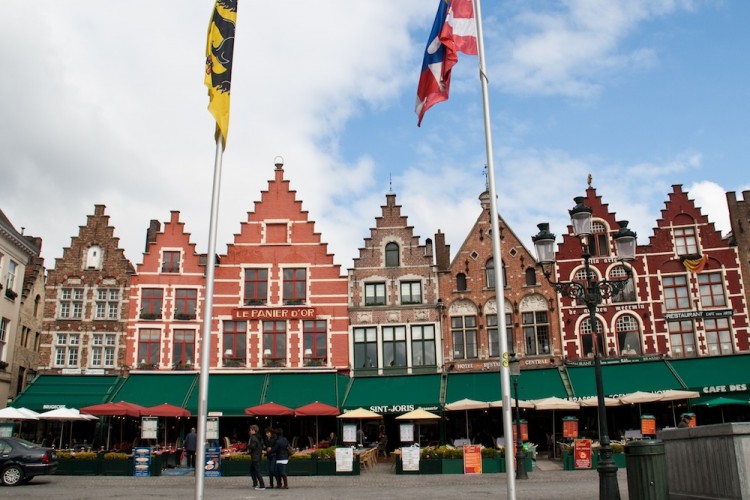 Gargoyles on a building.
I thought I would try my hand at some impressionist reflections.
Brugge was a fantastic destination, like being transported hundreds of years back. Well, if you disregard the MNG, Esprit, and the likes.